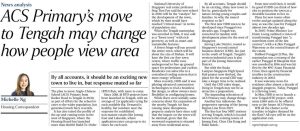 As with any new town development, it's not uncommon for there to be some initial hesitancy among homebuyers.
Just like Punggol, Tengah is still in the early stages of development, so it's not surprising to see a muted response so far.
However, as Tengah continues to take shape and more amenities are introduced, we may start to see a shift in buyer sentiment.
In fact, buying into an underdeveloped area like Tengah can be a good strategy for growing your property wealth in the long run.
As the government pours in billions of dollars into the town's infrastructure, well located properties will likely appreciate in value over time.
Of course, it's important to keep in mind that there may be some short-term inconveniences associated with living in a developing area.
Ongoing construction noise and dust can be a hassle, but the potential for long-term gains is something to consider.
In any case, it's always a good idea to do your research and assess the potential risks and rewards before making any investment decisions.
Looking back at Punggol, it's clear that the town has come a long way since its initial development.
Despite its humble beginnings, Punggol has become a thriving waterfront town with a strong community spirit.
As Tengah evolves, we may see a similar transformation take place, with more families moving in and prices starting to appreciate.
So, if you're considering investing in Tengah, keep an open mind and think about the long term potential.
With careful planning and a bit of patience, you may be able to reap the rewards of investing in a developing area.