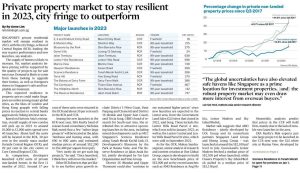 , the main action will be mainly at the city fringe areas, especially in district 05/21/23, south western part of Singapore and district 15, east coast area.
There are many units coming up for sale during the first half of the 2023 and buyers who are waiting for good options in the market will look forward to these launches.
These projects will be falling under Rest of Central Region RCR. With the current low supply situation, they will be expected to be well received by buyers who are anticipating for them.
The percentage change by region has also clearly indicated that the core central region CCR has grown at a much slower pace of 14.6% as compared to the OCR and RCR, at 44.6% and 43.7% respectively.
2023 will be an interesting year to watch, as the prices will be testing another record high and yet at the same time, the underlying demand remains strong.
With record price happening at Sky Eden, AMO residences and Lentor Modern, all OCR projects, transacting above $2000psf, the market attention will be shifted the better alternatives such as freehold projects that are undervalued or better located projects that are just selling slightly above $2000psf.
In every market, there will be market gaps, property is not as tradable as compared to stocks & shares, which makes it harder to buy/sell within a click of a button. Which means that there will be opportunities to those who know and where to find around.
Subscribe to this telegram channel to receive daily property news update:
https://t.me/johntanproperty
#theinsightfulrealtor #sgproperty #sgrealtor #johntanthepropertyagent #buysellrent #condosg #propertyinvestment #propertysg #hdbsg