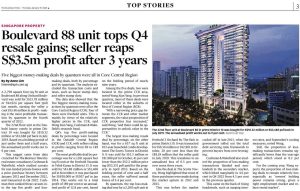 I went to check out this transaction from squarefoot, a data research company.
This particular unit was bought in year of 2019 at $10.32m and was sold recently at Dec 2022 at $13.78m
Firstly, this project is already an art piece of its own, CDL the developer sold 20 units on its first day of launch. And I still remember that the sale was really made through private invitation only.
Meaning, not any average Joe is even able to walk into the showflat to visit without the approval of the developer.
Fast forward till today, only 3 units have changed hands, and all 3 units have made almost $3m or more.
All units have already been sold off by the developer and as of now, 50% of the 154 units are all own by foreigners, with around 25% each own by Singaporean and PR.
All I can say is, the rich truly gets richer, making $1m per year just by owning a piece of rare trophy property collection.
Subscribe to this telegram channel to receive daily property news update:
https://t.me/johntanproperty
#theinsightfulrealtor #sgproperty #sgrealtor #johntanthepropertyagent #buysellrent #condosg #propertyinvestment #propertysg #hdbsg