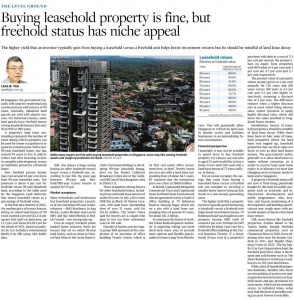 The question of buying a freehold versus a leasehold property will always be there.
The mindset of owning a property forever makes it seems like paying a 15-30% premium is a good deal.
But if you're intending to buy & invest for shorter than 25 years, it will actually make more sense to go for a leasehold instead.
An easier to understand example will be as follows:
Leasehold
$10 property price.
$7 debt
$3 of your own money
$0.3 annual rental income
10% return on equity
Freehold
$12 property price
$8.4 debt
$3.6 of your own money
$0.3 annual rental income
8.3% return on equity
Tenants don't differentiate between a leasehold and a freehold condo as long as it fulfills their housing requirements.
Over the subsequent period of 25 years, before the land lease decay sets in, or once there is a significant capital appreciation, the investor can consider to switch from the older 99yers condo to another newer 99years condo before the project starts to reduce in demand.
Again, some family offices have rules in place that they are only allowed to invest in freehold properties and the people managing the funds can only recommend certain locations for them to go into.
Not only the tenure, there are other factors to look out for when choosing the right project, such as proximity to schools, layout comparisons, nearby growth catalysts, etc.