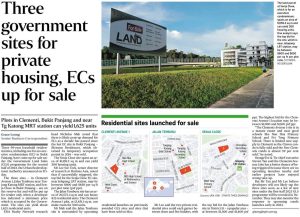 The three sites being put up signals the demand in the outside core central region will remain strong in the near term.
With many upgraders aspiring to grow their property portfolio, the areas that will continue to have strong support from mainly families profile.
Clementi Ave 1 site will be well received as it's the last plot of the 3 sites along the stretch. With Clavon and Clement Canopy both doing very well in terms of their take up rate, UOL will most likely put up a strong bid for it to make it a triple success.
Jalan Tembusu will be naturally highly anticipated due to the severe shortage of supply currently in the district 15 vicinity. Currently, there is near to zero options for buyers to consider in the east coast vicinity.
Lastly the EC plot over at Senja will have leftover support from Tengah and Bukit Batok ECs. The strong sales of Copen Grand will boost the confidence of developers to continue their efforts in the western region. Most likely Qingjian or CDL will be looking to repeat their successes from the nearby ECs
Subscribe to this telegram channel to receive daily property news update:
https://t.me/johntanproperty
#theinsightfulrealtor #sgproperty #sgrealtor #johntanthepropertyagent #buysellrent #condosg #propertyinvestment #propertysg #hdbsg