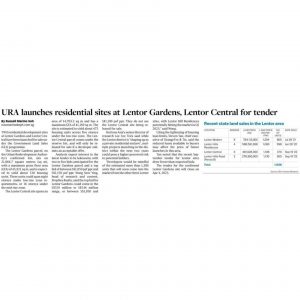 The total supply in the new township of Lentor will test the developers' confidence into bidding into this area.
Even though AMO and Lentor Modern have achieved superb results on their first day launch of close to 80%, developers will still be cautious about the demand over here.
Some of the sites are within 1km of the nearby popular schools which I think will be a factor in play for families with school going kids.
Investors or homeowners who are aiming to buy into this area and wish to take part in the growth of this new township will have to be discerning in terms of choosing the right project.
Supply will come into the market one after another, with high competition, it will eat into the expected rental yield and capital gains expectations.
Not forgetting that there will be constant noise and dust when the constructions are going on.
Given a price tag of $2200psf, I would think there will be better buys focusing into the RCR and CCR projects that are previously launched and still have some balance units to consider.
Over a longer term of 10-15 years, when these projects go into the resale market, the buyers' expectations will shift.
Subscribe to this telegram channel to receive daily property news update:
https://t.me/johntanproperty