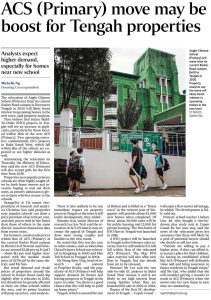 This will not be the last when a good school make a big shift from a prime area to a non mature location.
This news came to many with a lot of mixed reaction. While those who have bought Copen Grand EC will be happy with the sudden pleasant surprise, some parents who planned and bought properties way earlier for their kids in Bukit Timah Road will have to make second plans.
Due to falling birth rates and changing demographics, we have seen many schools mergers, relocation and like in this case, changing from boys school to a coed school. Some of my friends' schools have also become non existent.
Some of such schools site will then be left vacant and soon be converted for other usage, depending on the location's needs.
The recent site at Toa Payoh near to Caldecott MRT will be used for residential purpose and we will soon be seeing more new private properties coming up in the Toa Payoh.
While Minister Heng said that "every school, a good school", we can't deny the fact that parents will have their preferred schools for their children due to their opinions, be it for prestige, school history or culture.
The 1km ruling also make it such that properties within a high demand primary school will continue to attract both families and investors to focus their attention into such properties.
This shift could also mean that the Gov is serious about dispersing the concentration of popular schools in a competitive location. Who knows, maybe Nanyang Primary could be shifted out to Canberra new town over at Sembawang?