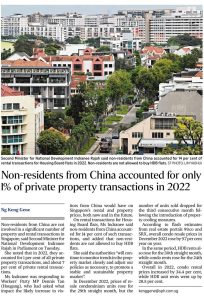 As a real estate agent that talks to different types of buyers everyday on the ground, we do know that there are a lot more naturalized citizens.
As I was marketing an EC in Sengkang The Vales, there were close to 15 groups of buyers that spoke with a Chinese accent but holding onto a pink IC, which means that they are already gotten Singapore Citizenship.
This is something unavoidable for a land scarce country facing aging population and low birth rate.
If the Gov wishes to fund its social support programs, one of the way is to increase the population, especially those that can still contribute to the economy.
Of course, the Gov will not release the sensitive numbers of how many of such citizenships have been given over the past years.
Currently, there also isn't a way to measure how many properties are being bought by newer citizens. Currently, they can only track based on citizenships.
This news article is in a way meaningless to say that non residents from China account only for 1% of the property purchase.
One thing for sure I do know, that the property remains attractive for overseas buyers and they will find ways and means to slowly shift their funds or immigrate into Singapore.