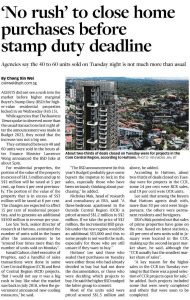 The mad rush for getting the option to purchase OTP done on or before 14 Feb is not as crazy as the past cooling measures.
The only real affected buyers are of the higher priced properties. However, a person buying a $5m property, will not be very much affected by a $50k increase in taxes.
The newly implemented property tax affects not just the residential but also the non residential properties.
This means that the Gov is aware of the incoming hot money flowing into Singapore in the coming months.
This round of budget is what I called a Robin Hood budget. Taxing the rich and supporting the poor. Luxury cars & higher priced properties are subjected to higher tax. While more CPF grants are given out to first timers buyers.
No doubt that we are experiencing another wave of new immigrants, and overall assets prices are expected to continue to rise in the coming years.
The only way to keep up is to acquire more or stay vested in the real assets.