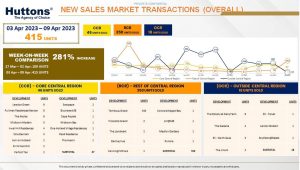 Developers sold an impressive 415 units between 03 Apr – 09 Apr 2023.
The sales were distributed across the CCR, RCR, and OCR regions, with the RCR and OCR regions taking the lion's share of 84.3% and 4.3%, respectively.
Meanwhile, the CCR region accounted for a respectable 11.3% of the sales.
The star performers in each region were Leedon Green in the CCR, Tembusu Grand in the RCR, and The Botany at Dairy Farm in the OCR.
Tembusu Grand stood out with an exceptional first-day sale of over 50%, making it the best selling project in the RCR to date.
Interestingly, there hasn't been a significant launch of this land size since Haig Court in 2004, which is a testament to the pent up demand for quality properties in desirable locations such as District 15 and the Katong area.
The strong sales for these launches in 2023 are an indication of the robust demand for property investment.
With a low of 16,152 unsold units and below average completion of new homes expected from 2024 onwards, 2023 looks like an ideal year to invest in properties.
All in all, this is excellent news for the upcoming launches in 2023, and we can expect an equally impressive performance from them.