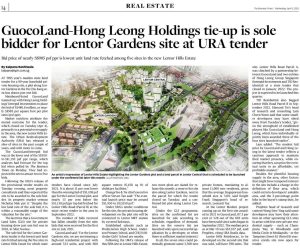 GuocoLand and Hong Leong wins as the only bid for the Lentor Gardens site at URA tender. Their bid price of almost S$985 per square foot per plot ratio psf ppr is the cheapest among the five new sites in the Lentor Hills Estate.
Even though their bid is on the low side of expectations, it shows they know how to play it safe and stay competitive. This way, they can set the price of the units at a reasonable level while still making a profit.
Even though there might be too many homes in the area, other developers didn't dare join in on the bidding war.
Market experts note that GuocoLand and Hong Leong are strong players and already won three out of four sites launched earlier. So they definitely know what they're doing and have strong confidence in this area.
The developers might get the land at a low price, but that doesn't mean they'll sell the units for cheap. This move shows they care about selling affordable homes while keeping their position in the market.
The Lentor Hills Estate has had many new sites released by the Urban Redevelopment Authority URA over the past few years, and more are coming. But even though the sole bid is at a low price, it's still reasonable compared to the most recent tender in September 2022.
We should give credit to the developers for being careful while still keeping their market presence and hope that when they launch this project they will price their units affordably.
Having the control in their hands, we will see how they will price this project to give some price protection for the buyers of their earlier projects.