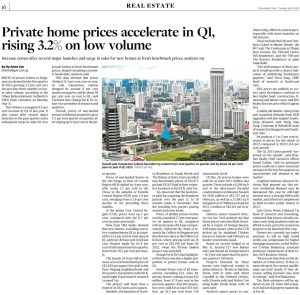 Private home prices gained 3.2% in the Q1 2023, despite a drop in volume. The surge in landed property prices and overall growth in non-landed prices fueled this increase, especially in the city fringe area, which outperformed other areas with a 4% jump in prices.
One factor that will sustain price growth in Singapore's real estate market is that developers are unlikely to reduce prices due to low unsold inventory, increased development risks, and construction costs.
With more BTO supply hitting the market in 2023, this could dampen HDB resale price growth and in turn affect HDB upgraders' demand for private housing.
Demand from HDB upgraders is critical to the health of the private housing market in Singapore, especially for mass market condos.
I strongly believe in being clear towards your real estate goals & numbers. This includes creating a budget, understanding your risk tolerance, and understanding the costs needed with real estate investing.
It's also important to have a well diversified portfolio, which includes paper investments in stocks, bonds, and other assets. Some of my real estate colleauges are overly exposed only in real estate.
While real estate in Singapore has proven strongly as a great tool against inflation, it has limitations such as liquidity and subject to future Gov intervention.
Many buyers may be wondering whether it's the right time to invest in Singapore's real estate market. My advice would be to avoid timing the market and stay invested for the long term.
It's important to stay invested for the long term and avoid trying to time the market. Attempting to time the market is risky and can lead to missed opportunities. Instead, I suggest focusing on your investment goals and stay invested for the long term.