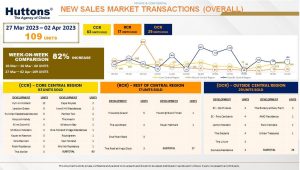 Developers' sales week from 27 Mar – 02 Apr 2023, selling 109 units in total
The Core Central Region (CCR) performed exceptionally well, accounting for 57.8% of the sales, while the Rest of Central Region (RCR) and Outside Central Region (OCR) made up 15.6% and 26.6%, respectively.
Hyll on Holland and Piccadilly Grand were the top-selling projects in the CCR and RCR, respectively, while Lentor Modern, North Gaia, Parc Canberra, The Gazania and The Lilium were the best selling projects in the OCR.
The private residential market in Singapore saw a healthy increase of 3.2% in prices during 1Q 2023.
This can be attributed to more property launches and increased buyer interest after the seasonal lull in the last quarter of 2022.
Despite a marginal increase in property tax in Feb 2023, buyers' demand remained strong especially towards attractively priced homes in the market.
The Rest of Central Region (RCR) stood out with the highest price gains, rising by 4.0% in 1Q 2023, partly because of the good sales at Terra Hill, which boasts a median selling price of $2,699 psf.
On the back of such a strong 1Q 2023 performance, Huttons has adjusted its price expectations for 2023 by up to 8%, a considerable increase from their earlier estimate of up to 5%.