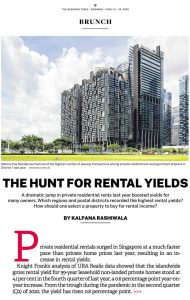 According to Knight Frank's analysis of URA Realis data, the islandwide gross rental yield for 99year leasehold non landed private homes has increased by 0.6% year on year and 0.8% since the pandemic's trough in Q2 2022.
For freehold properties, the yield has appreciated 0.5% point year on year and 0.6% since Q2 2020 to reach 3.4%, the first time since Q4 2014.
Although many investors in private homes are more focused towards capital appreciation, the rental increase since last year is definitely pleasing.
The covid construction delays made some people to turn to the rental market while waiting for the completion of their new homes, causing a sharp rise in rental prices.
Also, the reopening of the economy has brought back foreign students, foreign workers and expats, further increasing the demand for private residential rentals.
While gross rental yield does not factor in maintenance fees, property tax and other expenses incurred by the landlords, the strong rental growth from 2022 is causing stress for tenants who find themselves being priced out.
The tight supply situation is expected to improve this year with an estimated 17,427 units expected to receive Temporary Occupation Permits (TOP), which means more units ready to be move in.
I expect the rentals to stabilise or maybe increase at a much slower pace this year, depending on the locations and attributes of properties.
Until the majority of the new private homes are ready to move in, rents is likely to continue growing but maybe at a slower pace.
If you're an investor concerning about the overall upcoming supply, pm me, I'll share with you another chart showing the estimate completion for 2024,25 and 26.