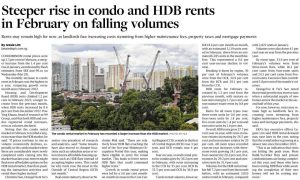 Despite falling volumes, the increase in rental prices is a positive sign for the property market, especially for landlords who are facing increasing costs such as maintenance fees, property taxes, and bank installments.
It may also encourage more property owners to rent out their units, rather than leaving them empty, and help with the tight supply situation.
Furthermore, the fact that rents increased for all room types, including executive units, is a testament to the overall strength of the rental market.
The increase in condo rents in February was the highest in a year, outpacing growth every month since February 2022.
It's an indication that the market is heading towards a more stable and sustainable growth pattern.
The rental growth rate may start to ease when a substantial supply of new homes enters the market in the second half of this year. Close to 20,000 units are expected coming into the market in year 2023.
Tenants may face challenges in finding affordable options, and many are shifting outwards for more lower price options, either to HDB or cheaper condo in outside central region OCR areas.
The rental market is still showing signs of strength and resilience, which allow investors as a good investment to collect monthly rental income.