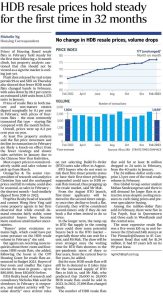 HDB resale performance is critical to the health of Singapore's residential property market.
The inter relation of HDB resale and private resale markets is also predictable.
If HDB resale doesn't do well, private resale will also not do well.
The recent decline in HDB resale volume may result in a price drop in the coming months.
However, based on our market observations, HDB resale volume is likely to rebound in March due to several factors.
Firstly, the increase in HDB resale grants from $50k to $80k will benefit first-time buyers.
Secondly, typically in Q2 and Q3, we see more buyers will slowly return to the resale market, and there are more resale choices available these days as sellers put up their homes for sale, giving buyers more options to shortlist their ideal unit.
This situation is expected to result in more buyers making decisions in the coming months.
Thirdly, the recent BTO exercise was not well received, partly because of the poor location, coupled with the increase in housing grants, it may make more sense to opt for resale now.
Fourthly, due to the stricter rules taking effect in Aug for the upcoming BTOs, buyers might be even more selective in their BTO application, thus turning to the resale market for immediate move in.
Lastly, the immediate move in option is probably the key reason for the current resale bull run.
Many homebuyers are not able to wait five years for their BTO flats.
Unless BTO waiting time can revert back to pre-Covid of 3-4 years, the resale market will continue to do well.
With construction slowly back to full strength, we are likely to have more buyers choosing BTOs over resale in 1-2 years time.
The next critical question is whether HDB prices will still hold strong. The short term is still probably a yes, but only temporarily due to limited supply.
However, in the mid-term, say 1-2 years, we will see HDB resale price correction as 100k BTO units launch in the next four years, taking away a big pie of the first-time buyers.
Besides, many MOP units are coming to the resale market every month, and we are already experiencing price cutting competition in some MOP clusters in the past few months, even for some in prime locations.
The decline that we saw in 2013 may happen again, and we will once again go into a buyer's market.
If you are an HDB owner with the intention to upgrade, downsize, or even right-size your current HDB flats, please do it as soon as possible. The window period is running short.
The HDB supply is coming and coming big time. The market will not be able to absorb the BTO units together with MOP units.
If you need to sell, better sell as soon as possible, on the ground we already know that gone are the days where buyers would put up crazy offers just to buy your unit.
Prices will not be allowed to go up further because the government already has the ready controls in place to calm the market anytime.