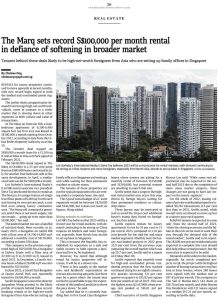 I am bullish about the luxury property rental market. This is not just based on the news reports but also my interactions with my clients & colleagues.
Recent months we have seen new record highs for both landed and non-landed prime segments, driven by foreign high-net-worth individuals who are looking to set up family offices in Singapore.
These outlier deals have performed well despite the broader market's softening in other segments, proving the resilience of the luxury property market.
The Marq on Paterson Hill recently leased a 4 bedroom unit at an impressive S$100,000 a month, breaking the previous high of S$80,000 a month.
Such deals are driven by wealthy foreigners who are attracted to Singapore's reputation as a safe and stable country to operate a business and live in.
Looking ahead, I am confident that 2023 will continue be a record year for the luxury rental markets, especially as China reopens and more foreigners decide to set up base in Singapore.
Some rent adjustments may be expected in the second half of 2023 due to the completion of more mass market projects, I believe these changes are not going to have any significant impact on the luxury segment due to its current low supply.