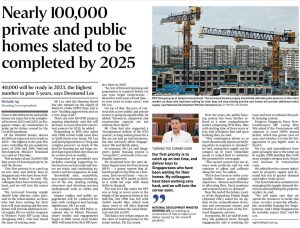 The real estate market is eagerly anticipating the Q2 of 2023, which promises to offer a wide variety of fresh exciting projects for both homeowners and investors.
The new launches are set to cater to different groups of buyers, with many projects located close to existing or upcoming MRT stations. Which in turn ensure excellent connectivity to employment hubs, commercial offerings and attractions around Singapore.
One of the highly anticipated projects is Skywaters Residences, a mixed-use development located in the heart of Tanjong Pagar, which will be the tallest skyscraper in Singapore.
Meanwhile, Newport Residences is located within the CBD and near the future Greater Southern Waterfront development, this will appeal to home buyers who wish to live in the city or enjoy potential rental upside in the years to come.
Other highly anticipated projects include Tembusu Grand, The Continuum, The Reserve Residences, Pine Grove (Parcel A), and Lentor Hills Residences, all located in strategic locations with high potential for growth and development.
The healthy sales of the recent new launches so far indicate there is still genuine underlying demand and ample liquidity in the market.
The new project launches prices are expected to remain firm this year as developers have already locked in high land prices and are facing rising construction costs and elevated interest rates.
Buyers of new launches will enjoy the progressive payment scheme that allows them to pay lower mortgage payments initially, providing some extent of affordability to enter the market.
The upcoming new launches in Q2 2023 will also be seen as a test of the resilience of the Singapore real estate market despite the many uncertainties in the horizon.