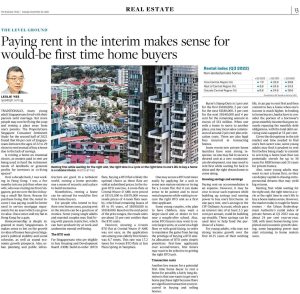 Leslie is a writer that I have huge respect for the in depth research he does in the field of real estate work.
If we read just the headline, we could have missed out the pointers that he raised in this article.
From the financial point of view, I've always encourage against renting for my clients. It doesn't make sense to pay rental when you are able to afford your own home in singapore.
For a holding period of more than 5 years, even if the property remains the same price, you would have made substantial savings as compared to renting.
In this article, Leslie points out that this group of people should consider renting.
1.Young adults who prioritize work productivity and mental health, if they are staying with their parents while waiting for BTO. You can't put a price on that, that's for sure. If you can't work and rest properly at your own home, then yes any price to get out is worth it.
2.Choosing the right BTO to maximize future potential gains. Yes, prime areas HDBs tend to create a higher potential capital appreciation as compared to non prime HDBs.
However, be mindful of the wait. And luck plays a part. If you're already in your mid 30s and still trying to aim for the first BTO in prime areas, probably you should weigh your options, especially you're planning to have kids.
3.Delaying the purchase so that income gets higher, your loan amount gets higher, opens up more options in your life, while saving up.
As we are younger, we tend to be able to take higher risks. There are some who will like to pursue starting a business, travel the world more, etc.
Buying a property requires a huge commitment, not just on the initial downpayment but also the decades long of loan that you need to pay monthly.
If you're not willing to be tied down, renting is a better option while you are still exploring options in life.
To further add on, some Singaporeans have overseas connections and may want to explore living in a different city. If you're certain that you will be migrating within the next 5years, then it make sense to rent while slowly transitioning to your new life in a different country.
Subscribe to this telegram channel to receive daily property news update:
https://t.me/johntanproperty
#theinsightfulrealtor #sgproperty #sgrealtor #johntanthepropertyagent #buysellrent #condosg #propertyinvestment #propertysg #hdbsg