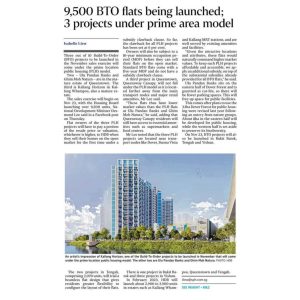 The bulk launch of Nov BTO shows that Hdb is serious about controlling the Hdb resale prices by increasing supply side in the BTO.
This will potentially create a temporary vacuum in the market where the hopeful applicants wait for a few months for their balloting queue results.
The Sep cooling measures is also targeted at private owners who are flushed with profits buying to a bigger size Hdb.
The main issue is about demand & supply where the HDBs are not built fast enough for the growing needs.
By releasing more BTO sites into the market, the eligible ones being able to qualify for it will be tempted to go for it, while staying in their current place.
We could possibly also see a return of a bulk MOP Hdb flats happening again, just like what happen from 2020-2022. This batch will be happening around 9-12 years from now, construction plus the 5 years MOP.
A large number of Hdb MOP at the same time will actually create more buying power for the mass market condos due to the newly unlocked wealth.
A family with $300k sales proceeds after selling their bto will be easily able to pay down their down payment for a $1.3-1.5m 3bedroom condo.
Subscribe to this telegram channel to receive daily property news update:
https://t.me/johntanproperty
#theinsightfulrealtor #sgproperty #sgrealtor #johntanthepropertyagent #buysellrent #condosg #propertyinvestment #propertysg #hdbsg