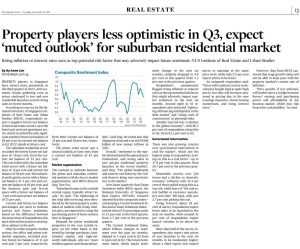 The outlook moving forward towards 2023 is shifting towards less optimistic, based on the survey of the industry players.
This index at 5.0 though is still much higher compared to the 3.0 COVID 2020 and below 4.0 between year 2013 – 2016 following a series of cooling measures.
Why is this index important to us as homebuyers?
This sentiment index will reflect the risks that the major players will likely to take moving forward.
Which means developers will be more cautious when they bid for land or survey enbloc potential sites.
Which in turn will also mean that they are careful of what kind of pricing the market is able to accept.
With the rising interests rates and global uncertainty, the developers will have at much higher risks if they overbid the lands and face the regulatory pressures if they can't build, sell and complete within the 5 years.
Subscribe to this telegram channel to receive daily property news update:
https://t.me/johntanproperty
#theinsightfulrealtor #sgproperty #sgrealtor #johntanthepropertyagent #buysellrent #condosg #propertyinvestment #propertysg