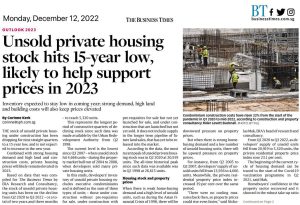 What does the low market supply means for us as homebuyers in 2023?
Despite the 2 rounds of cooling measures implemented for the past 1 year, the housing market remains resilent and showing no signs of dropping.
The total number of unsold units have also dropped to 15 year low, which means that buyers who are looking out for new homes in the market will be facing very limited options.
As the sales take up rate is ongoing steadily, the developers are not likely to reduce price to clear the existing stock.
As long as they are confident of meeting the 5 years deadline, there is no pressure to introduce additional promotions or huge discounts.
Looking foward in 2023, there will be a larger supply coming into the market with new units coming up mainly in district 15 and south western part of Singapore.
This will definitely by welcome by homebuyers in a low supply environment, which means that they will have more options to choose from.
Subscribe to this telegram channel to receive daily property news update:
https://t.me/johntanproperty
#theinsightfulrealtor #sgproperty #sgrealtor #johntanthepropertyagent #buysellrent #condosg #propertyinvestment #propertysg #hdbsg