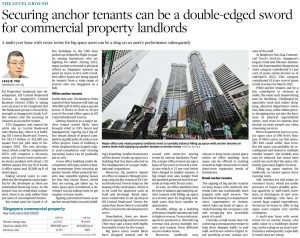 While having anchor tenants brings about a strong sense of assurance, the move of such tenants will shake confidence of both the landlord and the accompanying tenants.
If you have realized, every time a brand new office tower or brand new mall starts to reach its completion, landlords will rush to secure an appealing anchor tenants.
Anchor tenants usually are the big players in the market that will take up much bigger space.
For office, they will usually take up the entire floor level, sometimes a few floors at a go. Typically the banks, insurance companies, tech firms are the ones that will negotiate for a longer lease term at attractive rates.
For shopping malls, they are your supermarkets, departmental stores, food courts and cinemas.
It's also beneficial for them to account for their fixed costs of running their business and being able to project how much sales volume and profit margin they are able to generate over the next 5 to 10 years.
Personally, I do not share the same level of optimism towards retail space with the obvious reasons of consumer behaviors shifting towards online spending. Stores that are just plain selling physical products will be struggling to survive.
The only players that are doing well are focusing on things that can't be replicate online, for example experiential based activities, wine & dine with friends. After the covid, most of us realize that social interactions are still important.
With some of the poor performing & low footfall malls converting into mixed use residential and commercial, like Jcube and Bedok Square, it goes to show that there is limited upside in this segment.
For us individuals investors, if we are venturing into the commercial space be it office or retail space, as usual, we have to do our own due diligence properly to assess whether or not this particular investment is truly worthy.
Subscribe to this telegram channel to receive daily property news update:
https://t.me/johntanproperty
#theinsightfulrealtor #sgproperty #sgrealtor #johntanthepropertyagent #buysellrent #condosg #propertyinvestment #propertysg #hdbsg